Dr. Charles Stanley preached a wonderful sermon recently telling us how we are already seated in heavenly places if we are in Christ. That is our position if we are in Christ Jesus the Lord.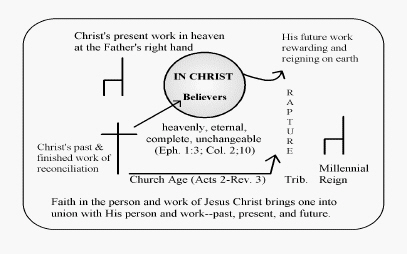 See God's Plan of Salvation
Faith: substance of things hoped for, evidence of things not seen – –

Our faith is precious to God and we should never underestimate its importance!
The New Testament or covenant teaches that we can come to God and be in right standing before Yahweh because of Jesus' sacrificial death in our place. This means we receive salvation by grace through faith.
The Old Testament or covenant was according to obedience to the law. No man, however was able to keep the law perfectly, so God allowed animal sacrifices to cover sin prior to the New Testament time if a person had faith to come to Him in that way and trust that He would one day send the Messiah, who is the only Way!
In the New Testament we learn that it is Jesus' blood that cleanses us from all unrighteousness.
There are many examples of these two covenants found in the Bible.
While reading in 2 Chronicles chapter 30 I noticed a passage where our God, who never changes, extended grace because of faith to His people even when they were still under the old covenant. He did this because of their faith and Hezekiah's prayer.
16 They took their accustomed posts according to the Law of Moses the man of God. The priests threw the blood that they received from the hand of the Levites. 17 For there were many in the assembly who had not consecrated themselves. Therefore the Levites had to slaughter the Passover lamb for everyone who was not clean, to consecrate it to the LORD. 18 For a majority of the people, many of them from Ephraim, Manasseh, Issachar, and Zebulun, had not cleansed themselves, yet they ate the Passover otherwise than as prescribed. For Hezekiah had prayed for them, saying, "May the good LORD pardon everyone 19 who sets his heart to seek God, the LORD, the God of his fathers, even though not according to the sanctuary's rules of cleanness." 20 And the LORD heard Hezekiah and healed the people.
God is truly rich in mercy as we are told in Ephesians 2:4-6:
4 But God, being rich in mercy, because of His great love with which He loved us, 5 even when we were dead in our transgressions, made us alive together with Christ (by grace you have been saved), 6 and raised us up with Him, and seated us with Him in the heavenly places in Christ Jesus, 7 so that in the ages to come He might show the surpassing riches of His grace in kindness toward us in Christ Jesus. 8 For by grace you have been saved through faith; and that not of yourselves, it is the gift of God; 9 not as a result of works, so that no one may boast. 10 For we are His workmanship, created in Christ Jesus for good works, which God prepared beforehand so that we would walk in them.
Jesus said, "You believe in God, believe also in Me." No wonder Jesus taught that He is Lord of the Sabbath and allowed His disciples to gather food to eat when they were hungry even though it was breaking the law of the Sabbath.

Jesus had power. He said so in John 10:18 when He spoke of His own life:
"No one takes it from me, but I lay it down of my own accord. I have authority to lay it down, and I have authority to take it up again. This charge I have received from my Father."
He took instructions from the Father as He willingly had submitted Himself to be under authority and emptied Himself. Notice that Jesus emptied Himself. It doesn't say that the Father forced Him to empty Himself. He chose this. He was "in the form of God", yet He chose to empty Himself of that authority and become submissive, even to death.
Have this mind among yourselves, which is yours in Christ Jesus, who, though he was in the form of God, did not count equality with God a thing to be grasped, but emptied himself, by taking the form of a servant, being born in the likeness of men. And being found in human form, He humbled himself by becoming obedient to the point of death, even death on a cross. Philippians 2:5-8

Was Jesus restored to His former position after His death? I interpret these verses to mean that He was given a greater position:
Therefore God has highly exalted him and bestowed on him the name that is above every name, so that at the name of Jesus every knee should bow, in heaven and on earth and under the earth, and every tongue confess that Jesus Christ is Lord, to the glory of God the Father. Philippians 2:9-11
The Father has told us that we must call upon the NAME of His Son to be saved! We are to bow to Him and confess that He is Lord. From this, the Father receives glory.
…The just shall live by faith. Romans 1:17, Galatians 3:11, Hebrews 10:38

Behold, his soul which is lifted up is not upright in him: but the just shall live by his faith. Habakkuk 2:4